Bali Horse Riding
The stable is located at Yeh Gangga beach on the south coast just north side of Tanah Lot temple. Black sand beach, with beautiful scenery rice farming and beautiful village. Alog the way we will see the waterfall, sea salt harvesting, bat cave and temple by the cliff.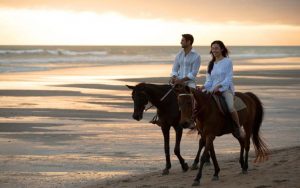 Enjoy Bali could be fun while you are having Bali Horse Riding whether in the morning, afternoon, or sunset beach ride. This can be done by everyone whose weight not over 90 kg and under supervision from the competent trainee. With the stunning surroundings of spectacular coastline, rural scenes, and the local people, it completes your trip to experience Bali's natural beauty. We provide simple but satisfactory package includes hotel transfers, insurance, light refreshments and soft drink. You only need to bring your personal belongings such as comfortable shoes, long pants, and sunscreen. Don't forget to bring your camera also.
Yeh Gangga Beach is a popular place for the Bali horse riding sunset. This is a quite beach situated in the southern Tabanan. Here the amazing views of Indian Ocean and spectacular sunset with the echoing sound of waves provide a different adventure atmosphere of horse riding. The horse riding tracks made specialty for impressive experiences for everyone joining the Bali Horse Riding. Prepare yourself for thrilling beach ride to pass through the black sand beach, and across the creek. Toward the rural landscape, you'll find the appealing rice terrace fields, local residents and beautiful temples within the traditional Balinese village.
Rate:
morning or sunset full ride for 2 hours,  adult 60US$ child 55US$
sunset half ride for 1 hour, adult 35US$ child 35US$
Rate Includes:
Hotel Transfers
Insurance
Light Refreshments and Soft Drink
What to Bring
Comfortable Shoes
Long Pants or shorts
Camera
Sunscreen
Pick up times
2 Hour Ride – Morning Trip 07.00 – 07.30
2 Hour Ride – Afternoon Trip 14.00 – 14.30
1 Hour Sunset Trip – 15.45 – 16.15
Important: Weight Restriction Notification
As you would appreciate our horses and customers are of utmost importance to us.
Accordingly, weight restrictions apply and for this reason we are unable to accept
any customers whose weight is over 90 kilograms.
Contact us for further information:
Phone/WA            : +62 8123916102
Email                     : baliwithsila@yahoo.com
Instagram             : @Sila's Bali Tours
Facebook             : Sila Bali Tours
Website                : www.silatours.com