Bali Rafting and Safari Marine Park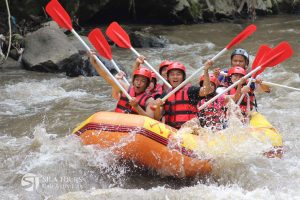 Bali Rafting and Bali Safari Marine Park provides a day trip to enjoy both safari journey and Ayung rafting.  Situated in the middle of Bali region, we'll pick you up at the morning and heading to this river. Enjoy the best outdoor spot for adventure lover to explore Bali. The thrill of Ayung River offers the most spectacular landscapes while you are rafting with its backdrop of the pristine rainforest, soaring gorges, and green paddies field. We guarantee fun and safety rafting in very affordable package. This includes the rafting insurance and all rafting gear and safety. The Ayung rafting meets all participants from children to adult as its flows tend to steady all the year.
Experience a tour combination to shift from the mountain and sea landscape where there are hundreds of animals living in the vast setting. More than 50 species, including some of endangered species found there in peaceful and harmony forest life. This Bali package tour offers some interesting unlimited safari journey for your family covering animal show to lunch local restaurant. Join this Bali Safari and Marine Park to feel the real nature and adventure. Shifting from savannah to safari is to meet the goal of conservation, education and recreation.
The tour will start with water rafting at Ayung river  which is located at center part of Bali, the rafting will finish around noon and continue with buffet lunch after shower. Next stop will be Bali safari and Marine park. Home to hundreds amazing animals representing more than 60 species, including some of rare and endangered species.
Combining Balinese cultural ambience with African Savannah, Bali Safari and Marine Park features the following exhibits featuring Sumatran elephant, Sumatran tiger, white tiger, leopard, komodo dragon and cheetah are just some of the fascinating creatures that can be seen at the Bali Safari and Marine Park.This tour is a private tour with air conditioned vehicle to give you more comfort to enjoy the journey.
*The package tour rate is adult 100US$ per person, child 95US$ per person ( minimum 2 person ) *Special offer for big group, please email us at baliwithsila@yahoo.com
*Payment method  by cash (IDR, US$ or other currency)
*Tour included,
Private air conditioned transport
English speaking driver guide
All rafting gears and safety
river rafting insurance ( for 10 – 60 years old )
buffet lunch
Jungle hopper package at Bali safari park,
Included : safary journey, fresh water aquarium, animal show, elephant show, silver seat at Bali Agung, water park and fun zone
Tour itinerary,
08.00am pickup at the hotel/villa lobby
10:00am arrived at the start point
12:30pm finish, shower and lunch
13:30pm Bali Safari park
17:00pm back to hotel
*Payment method  by cash (IDR, US$ or other currency)
*Thing to bring, changing clothes, sun block and swim suit .
*Pickup time, Nusa Dua,  Kuta & Seminyak 8am, Sanur & Ubud  8:30am
Contact us for further information:
Phone/WA            : +62 8123916102
Email                     : baliwithsila@yahoo.com
Instagram             : @Sila's Bali Tours
Facebook             : Sila Bali Tours
Website                : www.silatours.com